Introduction
Everyone needs a healthy life. To get a healthy life we need primary care and wellness check-up. Primary care provides the first point of contact in the healthcare system.
Primary care includes general practice, community pharmacy, dental, and optometry (eye health) services. Primary healthcare professionals typically work with many different patients and have broad knowledge about various physical, psychological, and social ailments that may affect their patients.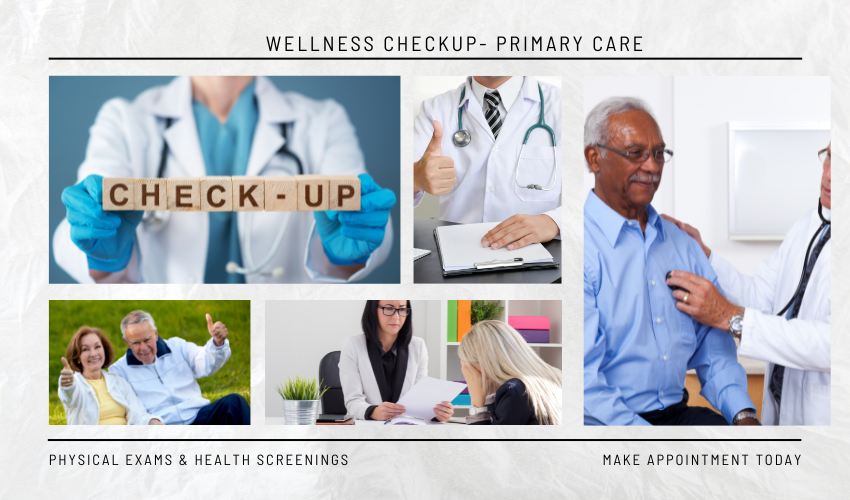 Wellness check up is also known as annual physical examination which is a routine test performed to assess your overall health. This wellness check up is now recommended by health insurance. It gives you the opportunity talk with your primary care provider in detail. About any pain or symptoms that you may be experiencing as well as any other health concerns that you might have. Primary care wellness checkup is your first resource for health care to ensure a healthy life.
Primary care
Definition
Primary care is the day-to-day healthcare given by a health care provider. This provider acts as the first contact and principal point of continuing care for patients within a healthcare system and coordinates other specialist care that the patient may need.
Primary care and the wellness checkup are the initial point of contact between a patient and the healthcare system that provides individuals with access to the information and resources they need for optimal health outcomes.
Purposes
The main purpose of primary care wellness checkup is to improve the health of the public by providing easy treatment access to medical care. It also focuses on the whole individual rather than on the illness of a specific organ, system or disease.
According to the World Health Organization (WHO), there are several key roles that primary care practitioners fulfil these include:
Providing a wider coverage of health care.
Preventing social disparities in health care.
Organizing health services to meet health needs.
Helping to make health and health care a part of public policy in every sphere.
Helping to train leaders ineffective health care.
Increasing the level of participation by all those who have a stake in health, whether patients, physicians, public health workers, or those in the allied health services.
Primary care practitioners are responsible for the ongoing health of their patients by preventing, diagnosing, early, and managing common health conditions. An important aspect of their work is making referrals to specialists as and when needed.
Benefits of primary health care include:
Increased access to healthcare services.
Improved quality of health care.
Focus on preventive health.
Early intervention to prevent health conditions from developing.
Improved patient relationships.
Reduced need for specialist care.
Economic benefit in the form of several linked jobs.
Types of Primary Care Providers
There are various types of primary care providers who are responsible for the ongoing healthcare of patients. Each of them is capable of acting as the point of entry for the patient into the health system for advice or referrals.
Primary care physician
Nurse practitioner
Family practice doctor
Internal medicine doctor
Gynecologist
Obstetrician
Geriatrician
Pediatrician
Each of these practitioners typically has a certain patient group with which they are most suited.
Healthy Primary Care for Improved Overall Health
Healthy primary care is the concept of primary care that emphasizes delivery of complete, patient-centered, and coordinated medical care to patients with a particular focus on health promotion, prevention and the treatment of chronic diseases. The aim that healthy health care has is enhance the overall well-being and wellbeing of patients by meeting their mental, physical and social requirements.
Key Features of Healthy Primary care
Healthy primary care puts patients at the forefront of their care and prioritizes their preferences, needs and preferences. It is based on collaboration and coordination among health professionals, including specialists in order so that patients can receive appropriate medical treatment at the appropriate moment.
Healthful primary care offers a wide variety of services, which include preventive care, chronic illness treatment, mental health care and access to community-based resources to meet the various requirements of patients. Healthy primary care places an intense importance on prevention, and includes methods for promoting health and risk-reduction to prevent the development and progression of chronic illnesses.
Utilization of technology Healthful primary care makes use of technology, like electronic medical records (EMRs) as well as telehealth and portals for patients, to enhance the quality of care provided and improve patient engagement.
In general, healthy primary care is a goal to provide top-quality complete, patient-focused treatment to ensure that patients achieve the best health outcomes they can.
Wellness Check-up
Wellness check-up basically provides doctors with a status update on the patient's overall health. They can help guide you to make choices that promote better health, and they can catch health problems early.
What does a wellness checkup consist of, are always a prime concern for all. These primary care and wellness visit may include:
A physical examination.
Checking your vitals.
It includes physical exams and different bloodwork and other tests. The annual wellness visit will just include checking routine measurements such as height, weight, and blood pressure. Wellness check means primary care check up that needs to carried at least one time in a year, recommended for Insurance.
It's always recommended to receive a physical examination annually, or at least once a year. Wellness checkup is especially important for older adults or individuals. This wellness check up will ensure healthy primary care. It will give the scope to check for possible diseases and  update necessary immunizations and vaccinations records.  It also helps to identify any issues that may escalate into future medical concerns.
Wellness check-up includes
Metabolic age
Physic rating
Body fat percentage
Bone mineral mass
Hydration level rate
BMI
Muscle mass percentage
The Seven Dimensions of Wellness
• Physical.
• Emotional.
• Intellectual.
• Social.
• Spiritual.
• Environmental.
• Occupational.
Annual Wellness Check-Up
The value of an annual wellness exam is priceless. Adults who fail to make time for this important appointment each year could be missing out on some important benefits. This routine check-up is not only an opportunity to maintain a relationship with a physician but also to monitor baseline health. It can also serve to identify any potential health problems and begin treatment as early as possible. Generally, problems can more easily be treated in their early stages before having the opportunity to progress to a more serious condition with greater adverse health effects.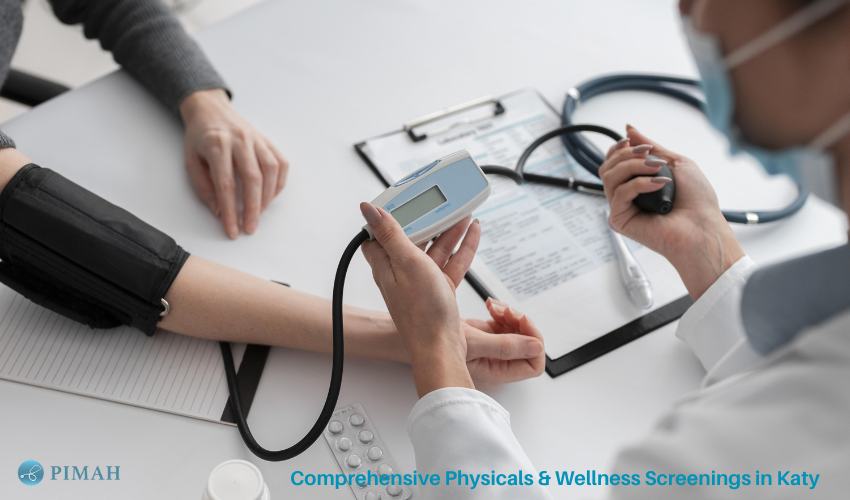 During a Wellness Exam
Doctor break patient wellness visits into three main parts –
health history review
the exam
and a discussion of the topics most relevant to your health and risk factors.
Each visit is personalized per the needs of the patient with an emphasis on preventive care.
Health History Review
The health history review provides Doctor with an understanding of the types of health issues and closest relatives members may have experience in the past, as well as the types of lifestyle factors that may be influencing the patient's health. The doctor will review any potentially hereditary conditions in the patient's family, record any medications may be taking, and note any symptoms may currently be experiencing. The patient may also be asked about immunizations and whether are up to date on vaccines.
Exam
The doctor will examine the general appearance and mental acuity for any signs of underlying health problems. It may request lab work to review patients' blood counts, cholesterol levels, and more.
All physical exams include-
a basic check of vital signs
including blood pressure
temperature
heart rate
respiratory rate.
The results of these basic readings can raise red flags in patients who may be suffering with hypertension, cardiovascular problems, lung problems, infections, and other underlying conditions. The doctor will also listen to your chest with a stethoscope to identify sounds of a crackling, wheezing, heart murmur, or irregular heartbeat.
The doctor  at PIMAH will also perform additional exams as a part of healthy primary care and wellness checkup in Katy, including:
Abdominal exam (palpitation to check for tenderness, fluid, and liver size)
Head and neck exam
Skin and nail exam
Neurological and sensory exam
A thorough annual exam will also include gender-specific exams. For women, that means undergoing a breast and pelvic exam, as well as a Pap smear to screen for cervical cancer. For men, it could mean a hernia exam, as well as a testicular, penis, and prostate exam.
Discussion
The doctor will discuss the preliminary results of the patient's exam during the visit. He will also talk about any concerns he may have about your health and lifestyle, and he may order additional tests or screenings if necessary. If gender, health history, age, or lifestyle present any risk factors for disease, patients may talk about ways of preventing health complications in the future, as well as any preventive exams may need, such as a mammogram or colonoscopy.
Conclusion
In conclusion, we have to maintain for need a healthy lifestyle to build up a healthy immune system and to avoid disease. Here, "maintain" means a healthy immune system to protect our body.